Maxpedition FatBoy S-Type Versipack Pack 0408 on sale and available from our online store. OpticsPlanet, Inc is an Authorized US Distributor for Maxpedition Carrying Bags.
Features of Maxpedition 0408 FatBoy S-Type Versipack Pack
Main: 8" x 6.5" x 3"
Frontal: 7" x 5" x 1.5"
Rear: 8" x 7.5"
SideA: 6" x 3" x 1.5"
SideB: 5" x 1.5" x 1"
Shoulder : Integral 2" strap (min 40" diameter / max 60" diameter) with non-slip shoulder pad.
Empty Weight: 17.6 oz.
Attach: Integral Quick Release Belt Snap
Optional Accessories (Sold Seperately): Grimloc Carabiner and Hook & Loop Modular Accessories (#3501 UNIVERSAL CCW HOLSTER, #3502 TRIPLE MAG HOLDER, #3503 DUAL MAG RETENTION INSERT)
Color Options: Black / Green / Khaki / Digital Foliage Camo
Also #0403 Fatboy Versipack (Right side carry)
The Maxpedition Fatboy S-Type Versipack (#0408) was originally designed for Search and Rescue work, the S-type allows for the additional attachment of the CP-L Radio Holster (#0102) or any other Maxpedition accessory pocket in place of the cellphone pocket on the standard Fatboy. In addition, the Fatboy S-Type rides on the left side of the body filling the need for a 'lefty' Fatboy and a grab-and-go gear bag that does not hinder the quick drawing of a sidearm on the right hip. It also has a 2" wide Velcro loop patch on the front lid for attachment of ID patches. Each S-Type Fatboy comes with a tactile non-slip shoulder pad providing great comfort during extended use.
The Fatboy's rear slip compartment is now equipped with large loop Velcro patches to accommodate Maxpedition Hook & Loop Modular Accessories (e.g. #3501 Universal Modular Holster, sold separately). This allows the user to position their concealed carry firearm for a quick strong side draw or weak side cross draw.
The following are the major differences between the S-type and the standard Fatboy:
(1) The footprint of the S-type is in the MIRROR IMAGE of the footprint of the standard Fatboy. (2) The S-type has an additional anchor attachment point where the cellphone pocket is on the standard Fatboy. (3) The S-type provides more modular capacity than the standard Fatboy with three anchor attachment points>
Materials of Maxpedition 0408 FatBoy S-Type Versipack Pack
1000-Denier water and abrasion resistant light-weight ballistic nylon fabric
Teflon fabric protector for grime resistance and easy maintenance
high strength zippers and zipper tracks
UTX-Duraflex nylon buckles for low sound closures
Triple polyurethane coated for water resistance
High tensile strength nylon webbing
High tensile strength composite nylon thread (stronger than ordinary industry standard nylon thread)
#AS-100 high grade closed-cell foam padding material for superior shock protection
Internal seams taped and finished
Paracord zipper pulls
Stress points double stitched, Bartacked or "Box-and-X" stitched for added strength
Cleaning Instructions for Maxpedition 0408 FatBoy S-Type Versipack Pack
Maxpedition's nylon fabric is treated with Dupont Teflon for superb water and grime resistance.
To clean, simply wipe down with a damp cloth. Allow gear to dry naturally.
Do not machine wash.
Do not use detergent or bleach.
---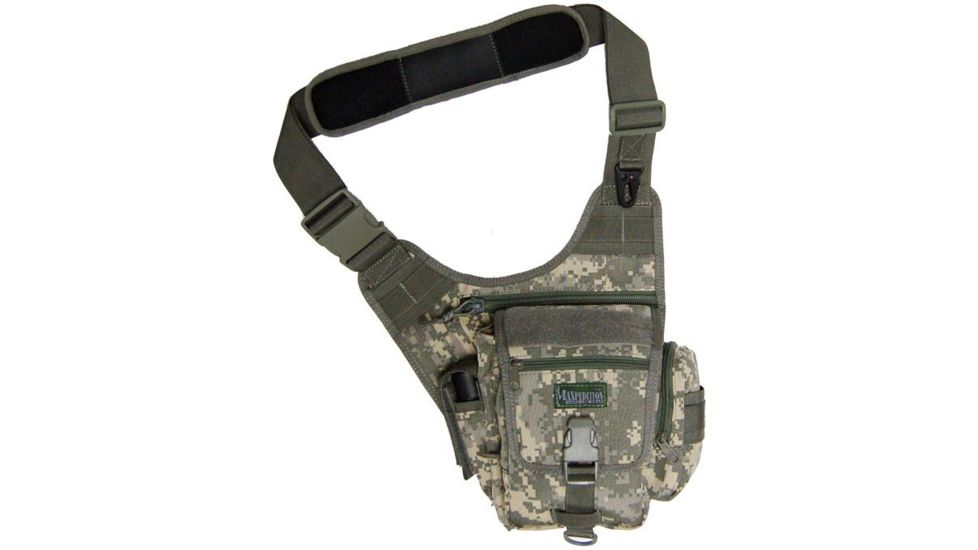 Maxpedition FatBoy S-Type Versipack Pack 0408
RATING
94 /100
Design

Excellent

Performance

Excellent

Value for money

Excellent

Feature

Excellent