Price Save 30% from $69.99 to $48.99
The CRKT Heiho Military Knife was custom-designed by James Williams, an instructor of special operations personnel and security professionals who must at times perform their daily high risk duties in environments where carry of firearms or larger knives is impermissible. The Columbia River Heiho Knife was developed to meet their professional needs. The CRKT Heiho Folding Knife is built with a stainless steel Inter-Frame design with a liner lock. A thumb disk allows rapid opening with either hand, and the custom stainless steel clip can be quickly and easily mounted right- or left-handed with a single screw, yielding knives that are truly ambidextrous. Polished G10 scales round out the makeup of this defensive folder knife.
The CRKT Heiho Tactical Knife makes full use of the patented CRKT OutBurst assisted opening mechanism, and if required, can be quickly disabled easily. The CRKT Heiho CQB Knife also incorporates our patented LAWKS safety. This locks the blade in the fully open position making this folding knife a virtual fixed blade. The satin-finished 3.125" blade is easy to conceal carry. It weighs only 3.6 ounces. The Columbia River Knife & Tool Heiho Professional Folding Knife is overbuilt to last. This is arguably as much defensive security as you can find in a small, easily concealed, tactical folding knife.
---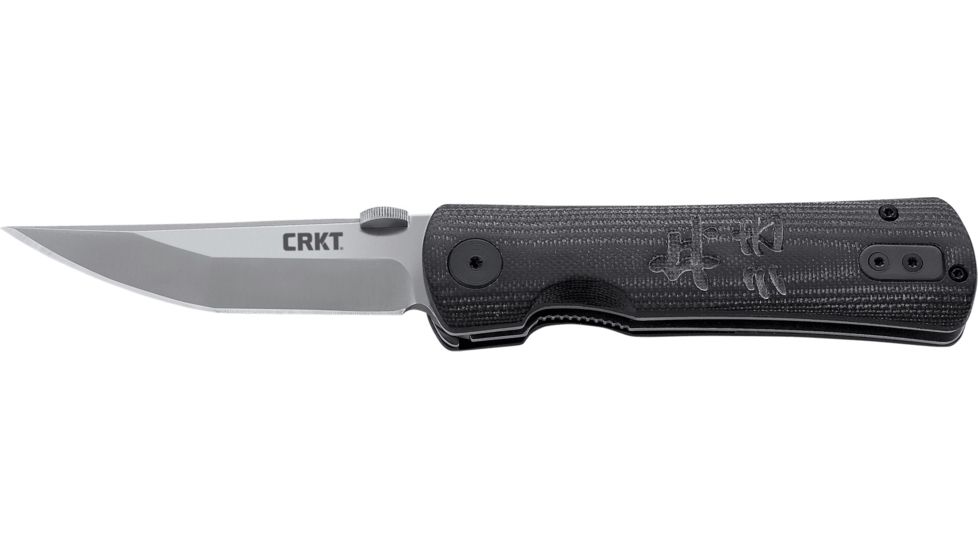 CRKT Heiho 7in Folding Blade Tactical Knife
RATING
92.5 /100
Design

Excellent

Performance

Excellent

Value for money

Excellent

Feature

Excellent
Specifications for CRKT Heiho - Designed by James Williams:
| | |
| --- | --- |
| Open Overall Length: | 7 inches |
| Closed Length: | 4 inches |
| Weight: | 3.6 ounces |
| Blade Length: | 3.125 inches |
| Thickness: | 0.122 inches |
| Material: | AUS8 |
| Blade-HRC: | 58-59 |
| Finish: | Satin |
| Grind: | Hollow |
| Style: | Dual Grind Modified Tanto |
| Handle Material: | Polished G10 |
| Liner: | 2CR13 |
| Lock Type: | Locking Liner |
| Safety System: | LAWKS |
| Carry System: | 2 Position Clip |
Features of Columbia River Heiho Knife Folder:
Folding blade military & tactical knife
Outburst assisted open
---
---
PROS

razor sharp
Good blade angle
Sturdy, Sharp
CONS

Small blade assist button
Smooth grip
Rust, Loose lock
#CRKT